Hoshino-mura (Hoshino Village), now part of Yame City, is a small village located in north Kyushu, the most southerly of Japan's four main islands. With beautiful nature, rich cultural heritage and a variety of tasty treats, there is something for everyone here in Hoshino Village. And it is here that you will find Hoshino Furusato Park, a nature park boasting not only stunning scenery but also a handful of museums and accommodation facilities. So why not come and experience the beauty of Hoshino Village and create special memories?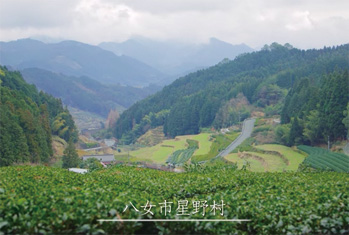 From Hainuzuka Station (JR Kagoshima Main Line, Chikugo City), take the Horikawa Bus Haya Line from Hainuzukaeki-mae bus stop to Fukushima bus stop (Yame City). It takes about. 20 minutes.
Change buses at Fukushima to take the Horikawa Bus Hoshino Line to Ikenoyama-mae bus stop (Hoshino Village). It takes about. 40 minutes.
There is only around 1 bus every hour from Fukushima bus stop to Hoshino Village, so please check the timetable on the Horikawa Bus website in advance.
When you come to Hoshino Village by bus to stay at Hoshino-bunkakan (hotel), please tell the staffs the departure time of Fukushima bus stop. The staff of the hotel can pick you up at Ikenoyama-mae bus stop (the nearest bus stop). *It takes about 20minutes from the nearest busstop to the hotel on foot.