Cha no bunkakan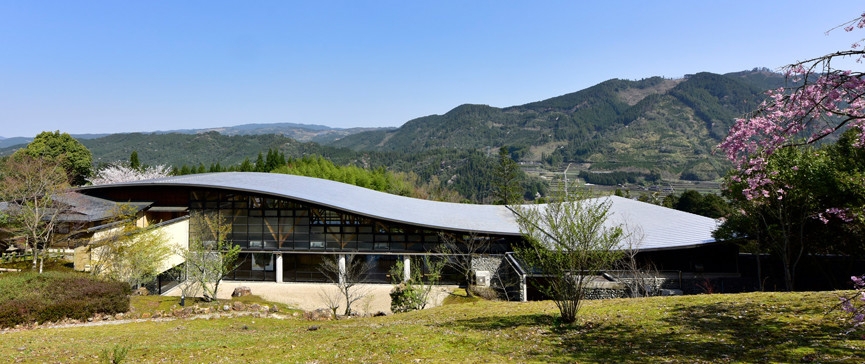 Yame Tea is produced in the Chikugo region, centering on Yame City, Fukuoka Prefecture. One area here in particular is renowned for producing exceptionally high quality teas, thanks to steep mountains, limpid streams and stark temperature differences. Known collectively as "Okuyame," this area includes Kurogi Town, Joyo Town, Yabe Village, and Hoshino Village.
Tea in Hoshino Village dates back at least to the Muromachi period (1336-1573), when it is thought to have been introduced here from Reiganji Temple in neighboring Kurogi Town. During the Meiji period (1868-1912), SUEZAKI Kiichi of Honboshino area worked tirelessly to produce tea of exceptional quality, having learned production methods for gyokuro tea from Uji in Kyoto. 1904 marks the dawn of gyokuro production in Hoshino. Over the past century, Hoshino has continued to produce unrivalled quality gyokuro by adhering to the time-honored practices of shading the tea plants using reed screens and picking the tea leaves by hand. Gyokuro grown according to these painstaking processes is known as "Dento Hon Gyokuro," an appellation reserved for only the most fragrant, rich-tasting grade of tea.
Here at the Cha no bunkakan (Hoshino-Tea Museum), you can sample Dento Hon Gyokuro in the form of "Shizuku tea." Please sit back and immerse yourself in tranquil surroundings while sipping refined Shizuku tea.
Recommendations
Make the most of your visit to the Cha no bunkakan by trying as many different teas as possible! The center provides a lineup of various products, from gyokuro tea to green tea soba noodles, chameshi (rice boiled in tea), green tea ice cream, and daifuku or manju sweets made using tea. Do not miss this chance to experience the rich and mellow tastes of Hoshino Village, renowned for producing exquisite teas!
Events
Address
10816-5 Hoshino-mura, Yame City, Fukuoka Prefecture 834-0201
Opening hours
10 a.m.-5 p.m.
Closing days
Tuesdays (open on National Holidays and during the summer vacation period)
Entrance fee
Free
Parking lot
30 spaces
Inquiries
Tel: 0943-52-3003
Fax: 0943-52-3002
Remarks
Many ways to enjoy tea
Teicha Hall
Teicha Hall, located in the center of the building, allows visitors to sample a variety of teas, including Shizuku tea, matcha and black tea. This spacious and relaxing area is the perfect place to unwind over a cup of tea. Relax and gaze at beautiful views of Hoshino through the hall's windows.
■Teahouse menu
Finest grade Shizuku tea set: ¥800
*Yame Dento Hon Gyokuro (GI (geographical indication) registered product))
Shizuku tea: ¥500
Matcha set: ¥550
Black tea set: ¥510
Green tea: ¥360
| | |
| --- | --- |
| Hours | 10 a.m.-5 p.m. (closed Tuesdays) |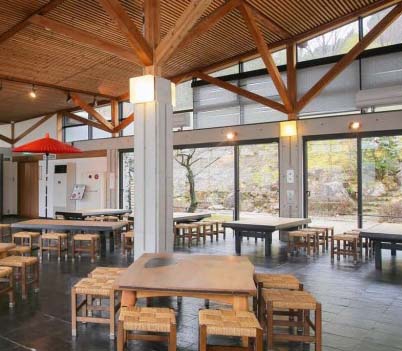 Store
The store area, located at the facility entrance, stocks a wide lineup of products, from Hoshino teas such as gyokuro and sencha to sweets made using tea and other local products.
You can also place a request for items over the phone.

Restaurant Yame Saryo
Yame Saryo, a restaurant located within the museum. This restaurant serves flavorful meals prepared using green tea from Hoshino and seasonal local ingredients. Popular items on the menu include green tea soba noodles made with generous amounts of Yame Tea, and rich Hoshino matcha ice cream.
Please stop by and enjoy a pleasant bite to eat with picturesque views of the Mino Mountain Range and surrounding countryside just outside the window.
| | |
| --- | --- |
| Hours | 11 a.m.-14:30 p.m. (last orders) (closed Tuesdays) |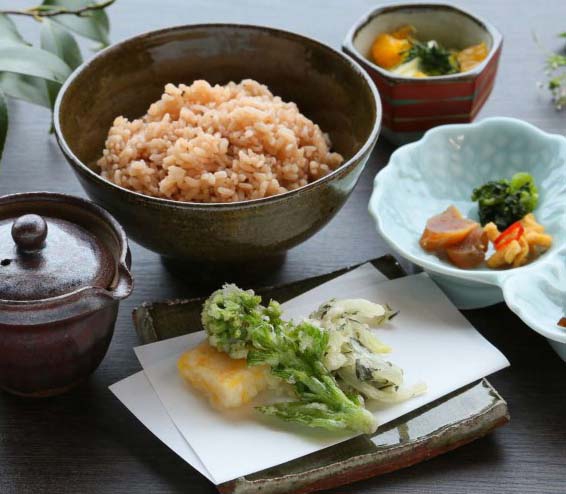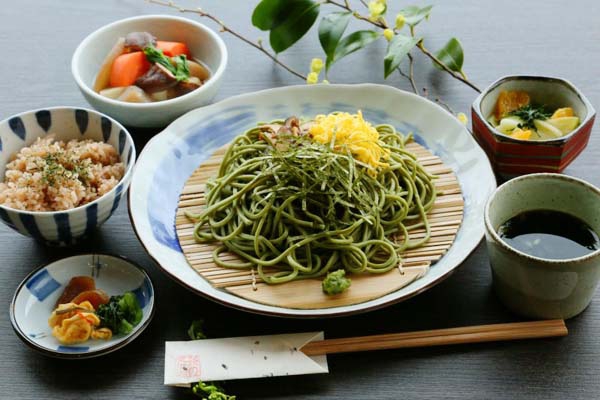 Meals
Zaru green tea soba noodles: ¥750
Zaru green tea soba noodles set: ¥1,200
Rikyu meshi set: ¥1,100
Gyokuro curry: ¥1,200
Bowl of rice topped with tempura: ¥1,100 etc.
Desserts
Hoshino matcha ice cream: ¥450
Hoshino hojicha ice cream: ¥450
Vanilla ice cream: ¥450 etc.
*All prices include tax.
Yame Cha Kobo (Tea experience zone)
Yame Cha Kobo, situated within the building, is the place to come for those wishing to experience everything tea-related, including making tea and Japanese sweets. From children to senior citizens, people of all ages can enjoy learning about tea. Make your own tea and take it home with you as the ultimate memento of your visit!
Hours
10 a.m.-noon
1 p.m.-3:30 p.m.
(closed Tuesdays)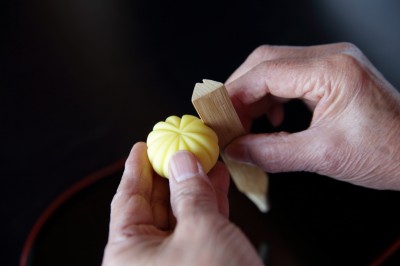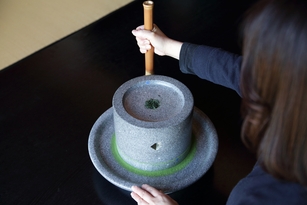 Matcha grinding
Workshops
Matcha grinding: ¥500 Making roasted tea: ¥500
Making green tea: ¥1,000 (reservation required 30 min. in advance)
Tea-tasting contest: ¥800
*From 5 people (reservation required 5 days in advance)
How to prepare tea: ¥600
*From 5 people (reservation required 5 days in advance)
Making Japanese sweets: sorry not available now
*From 5 people (reservation required 7 days in advance)
*All prices include tax.
*We can accommodate groups of fewer than 5 people for the tea-tasting contest, how to prepare tea, and making Japanese sweets workshops, but you will be charged for 5 persons' worth.
Fees for groups of fewer than 5 people
Tea-tasting contest: ¥4,000/How to prepare tea: ¥3,000
Exhibition Hall
The Exhibition Hall provides a simple guide to tea growing, production and varieties through panels and monitors. You can also find out what a gyokuro tea garden is like in a replica of a shaded gyokuro tea garden.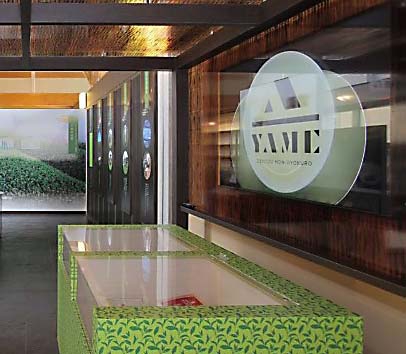 Learn about all aspects of tea, such as varieties of tea and production processes
Authentic tearooms for tea lessons and gatherings
Two tranquil tearooms...
The Cha no bunkakan has two tearooms: the large Hiroma and the small Koma. These rooms can be used for a range of occasions, from tea lessons and gatherings to other get-togethers and parties.
●[Hiroma] Zangetsu no Ma (top)
A tearoom modelled on Zangetsu-tei, a famous historical Omotesenke school teahouse. 18 tatami mats in size.
●[Koma] Myoken-an (middle left)
A tearoom modelled on Jo-an, a tearoom that has been designated as a National Treasure. 4.5 tatami mats in size.
●Kitchen
There is also a kitchen for food preparation, available to groups such as women's associations.
Hours
9 a.m.-9 p.m. (reservation required)
Fees
Hiroma
Hours Day: 9 a.m.-5 p.m. Night: 5 p.m.-9 p.m.
10 mats Day: ¥900 Night: ¥1,500 (per hour)
8 mats Day: ¥900 Night: ¥1,500 (per hour)
Combined (18 mats) Day: ¥1,200 Night: ¥1,800 (per hour)
Koma
Hours Day: 9 a.m.-5 p.m. Night: 5 p.m.-9 p.m.
4.5 mats Day: ¥900 Night: ¥1,500 (per hour)
Other
Kitchen ¥1,000 per time (up to 4 hours)
Tea utensils ¥50 per item
Inquiries to the Cha no bunkakan